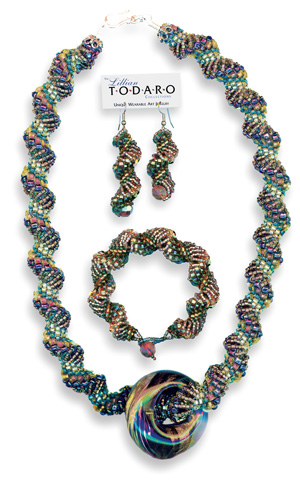 Browse the Celestial Spirals series and experience the simple yet complex beauty of the innovative spiral weave.
The simplicity of the spiral weave does not allow the weaving of her name into it so she weaves in a spirit bead (usually on the hook side); which is an Indian tradition and identifies them as a true Lillian Todaro sculpture.
Lilly has taken many of these works to a new level with the addition of beautiful hand made beads by award winning glass artists.
As no two pieces are alike and are a true wearable form of art that you too, should own and treasure one of your own from the Lillian Todaro Collections.
Spiral Sculptures- Available in
Necklaces, Bracelets and Earrings.