New Fantasy Creature Collections ...

Award-winning Jewelry-as Art
you can own...

Kits & Illustrated
Tutorials ...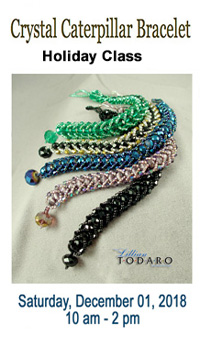 The Lillian Todaro Collections are one of the finest selection of Award-winning Jewelry-as-Art, Earrings, Necklaces, Purses, Freestanding and Wearable Sculptures in the world. Multi-award winning artist Lillian M. Todaro is renown for her creations of beaded and jeweled, freestanding and wearable sculptures -- all individually hand-made by her.
Lilly's fans and collectors come from around the Nation and the world. Owner of Lilly's Award winning necklace, Luminesence, actress Jane Seymour is pictured (right) with Lilly at the Annual Malibu Art Festival. Ms. Seymour also commissioned matching earrings and a bracelet.
Lilly has also been the special guest artist on the Carol Duvall Show, Home & Garden Channel (HGTV cable), the top national show for original artists. Lilly has also made TV appearances, including Fox TV (left).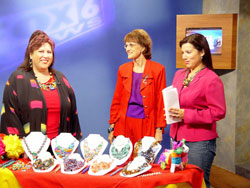 For a remarkable experience, please browse the entire Wearable Jewelry-as-Art at the Lillian Todaro Collections Gallery, then order your own direct from the artist! more>

To experience her latest work in person, visit her next Art Show or Gallery Exhibit, or you may call or E-mail to arrange a private showing at her studio.

---