Now you can buy all the beads and components you need for a special project! Each Component Companion kitincludes all select quality beads (Lilly's Tutorials sold separately). All Component Companions include Lilly's Magic Beads™, chosen for consistent color, matched size, and the best quality. All Component Companion Kits include our special, extra-strong thread and the right needle.

Don't see a color combination you want? E-mail us, and we usually can mix and make it for you! Click on a Component Companion Kit or the list below to browse & order.

The instruction Tutorial with photos of techniques is included! With free Shipping!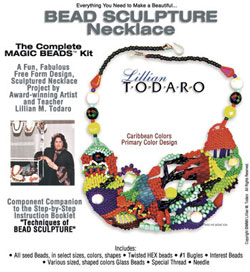 Bead Sculpture Necklace
"Caribbean Colors" Bead Kit

A fun, fabulous free form sculpture design. Primary Colors, Beginning, big, easy-to-use beads. Special thread, Sterling Silver Clasp & needle included.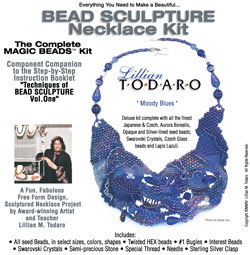 Bead Sculpture Necklace
"Moody Blues" Bead Kit
COBALT BLUES, deep, rich and sparkling.
Deluxe kit complete with all the finest Japanese & Czech, Aurora Borealis, Opaque and Silver-lined seed beads: Swarovski Crystals, Czech Glass beads, Lapis Lazuli, Special thread, Sterling Sliver Clasp & needle included. (Includes the same seed beads as the necklace made for the Carol Duvall HGTV Show)