Candy Beaded Bracelets look like colorful, hard candies all strung together. In reality, they are made of individual beads woven together into a tube of larger beads, which creates the illusion of a multicolored candy bangle bracelet.
This particular bead-weaving stitch has been practiced by the women of the Ndebele tribe of South Africa for hundreds of years. It is also known as the Herringbone stitch. Candy InstructionsHowever, I refer to it as the Ndebele stitch in tribute to these creative beaders of Africa. The instructions include detailed, easy-to-follow illustrations. It is a fun, fast, stitch, because you add on two beads at a time.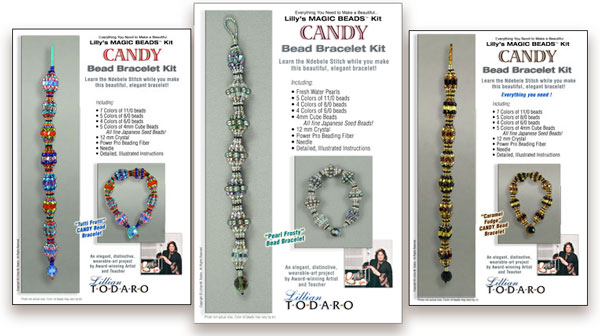 Kits include detailed, illustrated instructions, all the beads, needle, high tech beading fiber, and the 12mm Crystal.
Available colors/"flavors" include:
Tutti Frutti, Caramel Fudge,
and new Frosty Pearls Kits. Order yours now!
Candy Bracelet Kits